Welcome to the AirSharkSquad's Creepypasta Chronicles Wiki
Edit
Greetings, boys and ghouls!! I'm AirSharkSquad, the creator of the Creepypasta Chronicles and Creepypasta Heroes series! Feel free to enjoy these amazingly scary tales from my personal collection. And please...don't make any edits to them. Only I am allowed to make edits!
What if...Jeffrey Woods and his family never moved out to the neighborhood where Randy Warren and his friends lived? What if...Toby Rogers's sister never died in a car accident that caused his post-traumatic stress disorder? What if...Ben was never drowned by his own father? What if?
Is it really possible to go home again?
Latest activity
Edit
Photos and videos are a great way to add visuals to your wiki. Find videos about your topic by exploring Wikia's Video Library.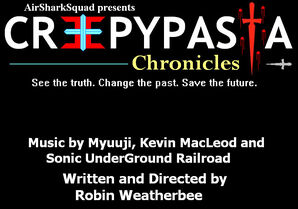 Ad blocker interference detected!
Wikia is a free-to-use site that makes money from advertising. We have a modified experience for viewers using ad blockers

Wikia is not accessible if you've made further modifications. Remove the custom ad blocker rule(s) and the page will load as expected.